Ellepots for Propagation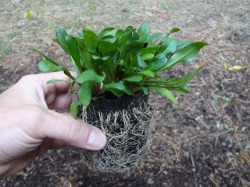 The Ellepot is made of a degradable paper filled with a growing media. The paper facilitates perfect root penetration.

The world patented system is unique, because it handles the growing media so gently that the airy and fragile structure is maintained throughout the production cycle to the finished pot.






Growers obtain the following advanges:
• Quicker turns of your bench space

• Gives you the ability to Control your crop
• Easy and fast transplanting
• Healthy and uniform plants
• Keeping the air content
• Easily Recycle trays


The substrate Ellepot® is suitable for propagation of cuttings and seeds for young plants, potted plants, cut flowers, nursery stock, forest plants, and vegetables.
Ellepot system enables you to avoid problems with circling roots.
A perfect start leads to a perfect end product.





"
I was a bit of a skeptic about Ellepots. However, I witnessed firsthand the Ellepot operation at Mobley Plant Farm and was highly impressed with the consistency and quality of the pot. After my second look, I ordered pots for the entire plant

operation for the Horticultural Gardens at the University of Georgia, The transplanted plugs finished beautifully, with healthy white roots popping out everywhere. My planting crew is ecstatic with the ease of installation and especially with the total lack of plastic. Planting was quicker, plants grew on perfectly and the planters were happy. What's not to like?"
-Dr. Allan Armitage
Floriculture Professor, University of Georgia
---